What is Roof Sheathing?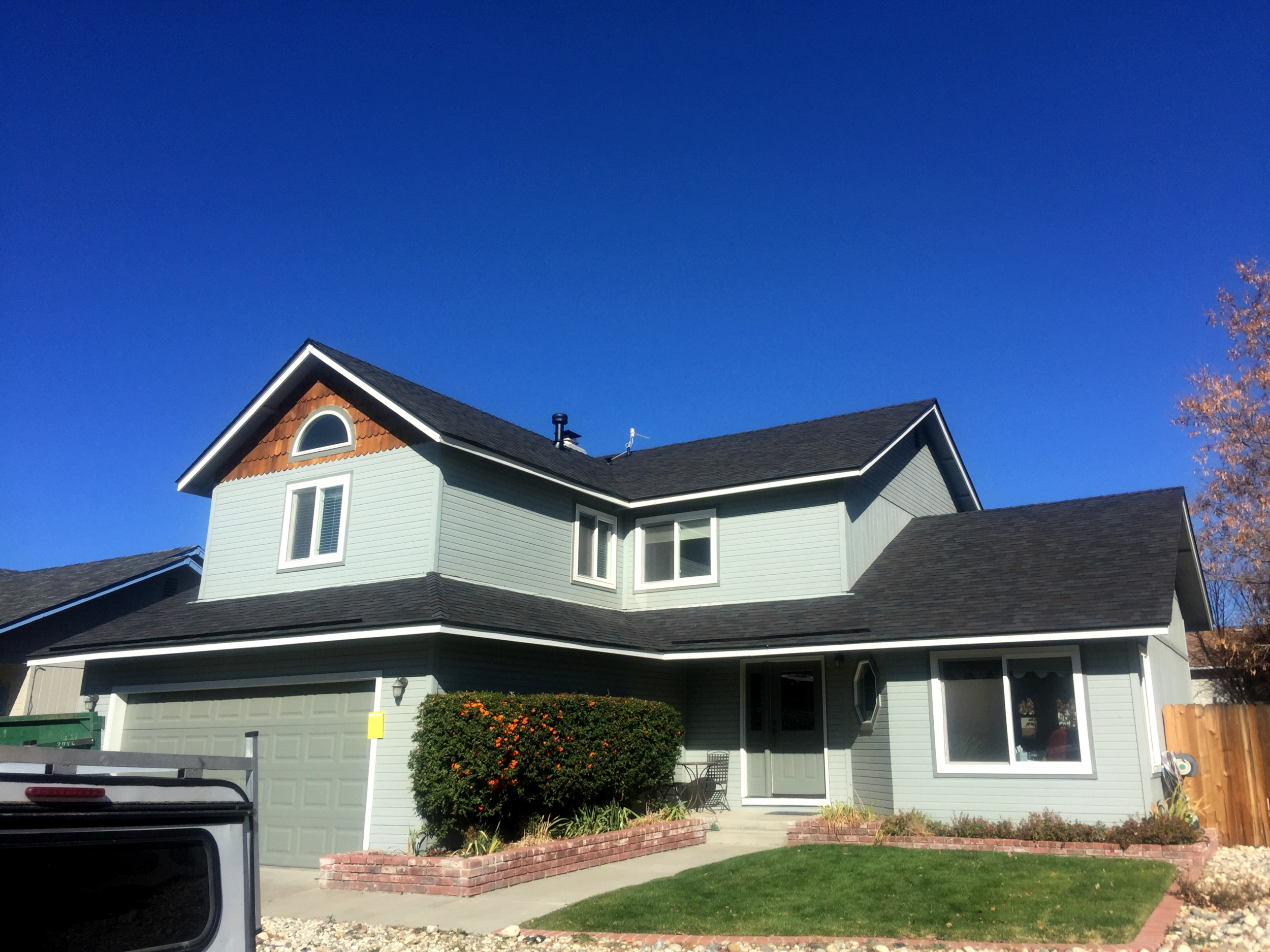 Much more than just plywood sheeting to which shingles are attached, a roof's sheathing is the glue that holds an entire roof together. Roof sheathing is ultimately what keeps your roof structurally sound, as it stabilizes the rafters and supports the roofing materials. East Fork Roofing, a roofing company in Reno and Northern Nevada, strongly believes in maintaining your roof sheathing. 
Roof sheathing also helps keep the roof trusses and rafters properly spaced, which allows for contraction and expansion with seasonal weather changes. Most often made out of materials such as plywood or OSB, these installations can vary based on budget and weather conditions.
Does My Roof Need Sheathing?
1. Poor Building Materials or Bad Sheathing
In any case of roof replacement or repair, we will check for bad sheathing, which include sheathing that will not hold the nail properly due to dry rot or moisture, or the usage of inferior building materials. In an average home, there are 2-5 sheets, and in cases of bad sheathing, we will replace each bad 4'x8' sheet individually.
During our planning inspection, we will walk the entire roof to see if it is overly spongy. If this is the case, we will approximate the costs prior to the project.  As a general rule, approximately 1 in 500 roofs will have an issue where the cost to replace each sheet individually will be more than if a second layer of sheathing had been installed. With East Fork Roofing Reno, the customer can feel free to cancel or postpone the project until they get a second opinion.
2. Outdated Sheathing Practices
Prior to the invention of plywood, a type of sheathing was used where wood planks were installed. These generally consisted of 1"x8" or 1"x12" planks installed with small gaps between them.
If your roof was installed with this sheathing style, you will experience problems when it comes time for your roof to be replaced or fixed. Due to the gaps all over the plywood, a significant percentage of nails will not hit solid wood when shingles are being installed, increasing the chance for shingle blowoff and roof leakage. We will require that a layer of sheathing be installed prior to installing your new roof so that these gaps do not exist.
3. Shake Roofing
During the 70s and 80s,  a fad emerged where shake roofing was installed over 1"x 8" boards spaced approximately 4-6" apart.  To resolve this, after the old shakes are removed, sheathing must be installed to provide a proper substrate to which the shingles can be attached.
If your roof was installed with shake roofing, it is time to get a replacement done the right way with a qualified and experienced roofing company.
Benefits of Sheathing
Structural Integrity: When done correctly, sheathing is not only a base for laying down shingles, but also adds to the structural integrity of the home is it ties all the trusses and rafters together.
Soundproofing: Laying down a layer of plywood or OSB helps to add an additional layer of soundproofing from rain, storms, or other weather conditions.
Which Sheathing Material Should You Use?
There are generally two types of sheathing that are used most often by professional roofing Reno contractors, plywood and OSB, each having their own advantages.
OSB is a less expensive option, although it has been considered to be lower quality as well. However, there are many benefits and advantages of OSB over plywood. OSB is generally more square and can be made into much larger sheets. It is also very strong, and the screw hold measures equally with plywood.
When moisture enters the picture, plywood performs much better though. Unlike OSB, when plywood expands from water exposure, it expands evenly throughout the panel and then returns back to normal thickness, whereas OSB expands unevenly around the edges and will expand up to 15% of its normal size.
A professional roofing contractor can evaluate your needs and decide which sheathing material is the best fit. Though OSB and plywood are the most popular options, others include strawboard, gypsum and foam sheathing.
Roofing Company Reno, NV
Unless you are an experienced contractor, you shouldn't try to replace or lay your roof's sheathing as it is the framework of your home. Professional roofing companies in Reno NV like East Fork Roofing are able to select the proper materials and fasteners for your home. If you are in need of roof sheathing or replacement, let our experts evaluate your roofing needs and install the best sheathing for your house. Let us set you up with a free quote!