Recently, Reno, NV came in second place as "The Windiest City in the U.S. in 2016" according to the research and consulting firm CoreLogic. To arm your roof with the best defenses against Reno's gusts, Reno's very own roofing company, East Fork Roofing, highly recommends that you choose to go with shingles that come with the appropriate wind warranty.
East Fork Roofing was started in the mid 90's by roofing contractor, Clay Davis, who resides in the Carson City area. He has been servicing Reno/Carson throughout that time and knows a thing or two about installing roofs in a high wind area. He taught his son, Mike, these principles from a young age and now Mike owns and operates East Fork Roofing, LLC out of Sparks, NV.
East Fork Roofing is roofing company in Reno and nearby cities, so they are familiar with the Northern Nevada area and its windy weather conditions. As far as shingles go, the first order of business is to avoid 3-tab shingles if you live in a high wind area.  These shingles are flat and only have a wind warranty up to 60 mph. Here is a photo that illustrates the 3-tab shingles: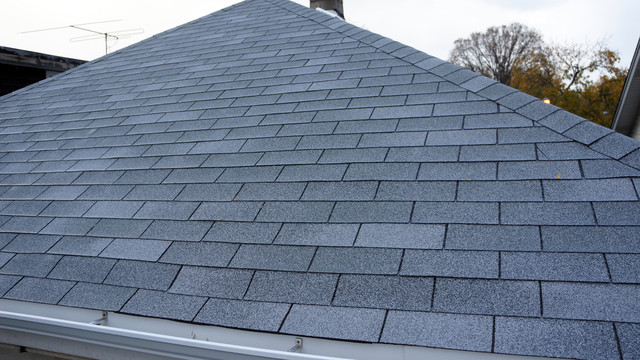 And here is what it looks like when they blow off:
East Fork Roofing, for the past 15-20 years, has been using a stronger "dimensional shingle". These sturdier shingles can withstand winds up to 130 mph. Protection up to 60 mph just isn't enough when you take into consideration that according to the RGJ, Reno saw wind speeds up to 90 mph last year. Here you can see the superior shingles:
When it comes to wind conditions in Northern Nevada, choose roofing companies in Reno NV like East Fork Roofing that use products from Malarkey and Certainteed, both of which carry wind warranties up to 130 mph. They also come with manufacturing warranties should there be any defects. If you wanted even more protection there is also an option from Malarkey for a heavyweight shingle that resists winds up to 140 mph. Lastly, East Fork installs your shingles correctly with the right type, spacing and amount of nails so that your shingles have less of a chance of blowing away in the first place. EFR also covers their workmanship with a generous 5-year service warranty.
So, if you have 3-tab shingles and/or are missing shingles, call East Fork Roofing LLC today for a free roof replacement quote at 775-800-7663. (Clay's contractor's license is now under the name "Clay Davis" and the number is # 0058079, while East Fork Roofing LLC's number is #0081744.)
Link to RGJ article: http://www.rgj.com/story/news/2017/01/17/reno-second-windiest-city-us-2016/96675108/