Are you struggling to figure out when the best time to replace a roof is? There are a few things to consider when deciding the right time for a Reno roof replacement. Is your roof in desperate need of repairs right away? What's the weather like in your area during the different seasons? And, more importantly, when is your roofer going to be available to get the job done?
It's critical that you plan a roof replacement according to your needs and availabilities. The best time to have your roof replaced really depends on you. It's important that you plan ahead for this is a big job. You should get at least 3 quotes from different roofing Reno companies to ensure you get the best price possible. And while you're calling around for estimates, be sure to ask about their availability and scheduling options. Here's some more tips for choosing the best time to have your roof replaced:
---
Roof Replacements During the Spring
If you're planning on having your roof replaced during the spring season, you should know that it's best to schedule for this in the winter. Scheduling a roof replacement early on, before you plan on having the services done, will ensure that you can get a spot in the books and gives you adequate time to prepare yourself. 
Many people start thinking about having their roof replaced in the spring. This is partially due to the weather change because it's easier to perform maintenance on your home when the weather isn't so frigid. But, it's also because winter weather can be damaging to an older roof. This means repairs are more likely to be necessary following a heavy winter. 
Spring is considered the best time for most areas of the U.S. to have a roof replaced because of the weather. Asphalt shingles require time to adhere to the roof and create a sealing that sets the shingles in place. It's easiest for this to happen if it's not too hot or cold out which is why spring is considered the best time to plan a roof replacement. There are still weather conditions to consider during the spring, such as rain, that can delay the process. As long as your roofing Reno contractor comes fully prepared this shouldn't be a problem, but it's still important to take this into consideration. 
Another good reason to consider purchasing during winter and installing in spring is because some roofers offer lower pricing during the winter in an effort to keep everyone busy. Most construction businesses see the biggest drop in sales from Christmas to Tax Day (most likely due to money constraints created by Christmas and alleviated by tax refunds). Because of this, some roofers may discount their prices during this slow period. 
Roof Replacements During the Summer
With the weather staying consistently warm, summer makes a good time for contractors to install a new roof. Not only does the summer weather provide better working conditions, but the materials and tools needed to complete the job will better function as well. More specifically, late spring to early summer is the most prime time for a roof replacement to happen. There's less chance of rain, and it isn't too hot yet, which makes it perfect for Reno roofing contractors to start construction on. 
It's important to keep in mind that summer is a VERY busy time for roofers because of the optimal weather conditions. This means that scheduling an appointment may be difficult and should be made early on. Also, keep the pricing in mind. Prices are going to be higher during the busier seasons, so you should account for this when you plan the best time to have your roof replaced. 
Be wary of choosing a time of year where the area you live in is extremely hot. The blistering heat can affect working conditions which will consequently affect working hours. This can lead to unwanted delays. And, high temperatures can cause asphalt shingles to melt which will make them less durable, resulting in damaged pieces. Try to avoid torrid weather conditions and schedule around the hottest part of the summer season. 
Roof Replacements During the Fall   
If you research when is the best time to replace a roof, most results will come up as fall being the best time. As stated earlier, this is when roofing companies are the busiest. Most people are trying to prepare for the winter season and it's common for roof repairs to be on that list of things to get done.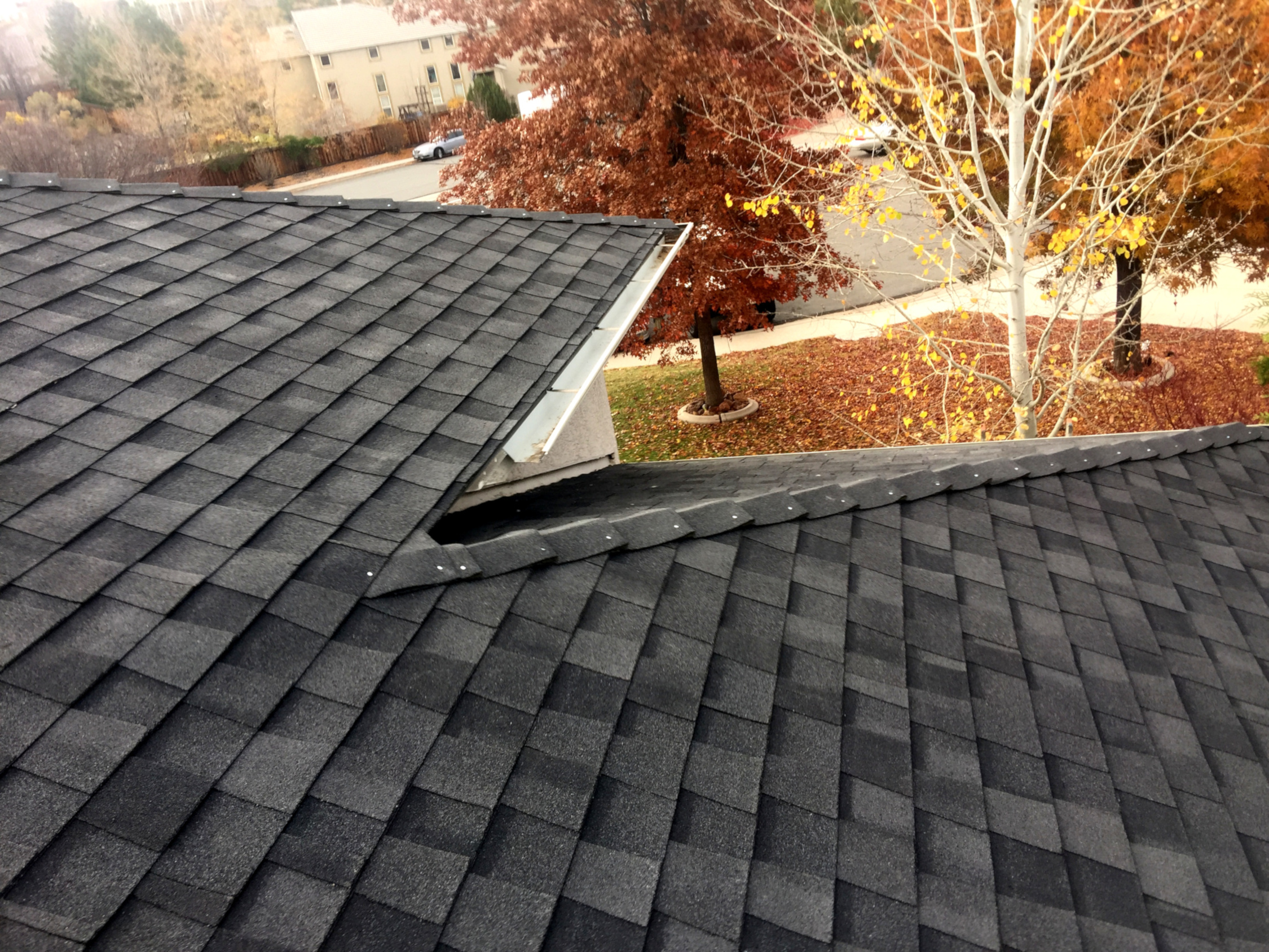 Fall is a great time to have your roof replaced because the temperature's generally don't get below 45°F or get above 85°F. There's also very little rainfall. This allows shingles to set and seal properly without the use of special tools or techniques. The weather also lets roofers work longer days and can get the project finished faster. 
 It is very important to remember how busy this time of year is for roofing contractors, so you should book your roof replacement early in advance. Booking too late can result in delay and sometimes contractors are even forced to take on roofs that are in serious need of repair, forcing your replacement to be pushed back. If you are planning on having your roof replaced in the fall, you should plan it at least 2 months in advance. 
Roof Replacements During the Winter
Winter is not the most convenient time to have your roof replaced, but in cases of emergency or if it's the only time you have in your schedule to have it done, it can be done. Because of the freezing temperatures, winter can pose a lot of problems for replacing your roof. If temperatures remain below 40*F for more than a month then thermal sealing is delayed and wind damage can occur until the temperatures rise high enough for the seal to activate. Shingles need adequate heat in order to seal and set properly and in the winter this can sometimes take days or even weeks to happen. Snow, extreme cold, and sleet can also make working conditions unsafe for contractors. This may cause delays on the progress of your roofing Reno project, which is not ideal in the winter.
While you may be concerned about the quality of your roof if you decide to have it replaced in the winter, you should know this isn't true. Most roofing Reno companies are prepared for all sorts of inclement weather. 
There are some benefits to having a roof replacement done in the winter though. For instance, you won't be competing for time slots because most people avoid such repairs in the winter. And, if you're lucky, you could also potentially get a discount on services because most companies are pretty slow during this season.
East Fork Roofing Company Reno, NV
If the shingles on your house or mobile home are buckling, peeling, or lifting, roofing companies in Reno NV are ready to help. We can help you get your roof in tip top shape, anytime of the year. No need to ask when is the best time to replace a roof because we are prepared for anything. Contact East Fork Roofing, Reno's roof replacement specialists, to get started today and get on your way to a new, long-lasting roof.